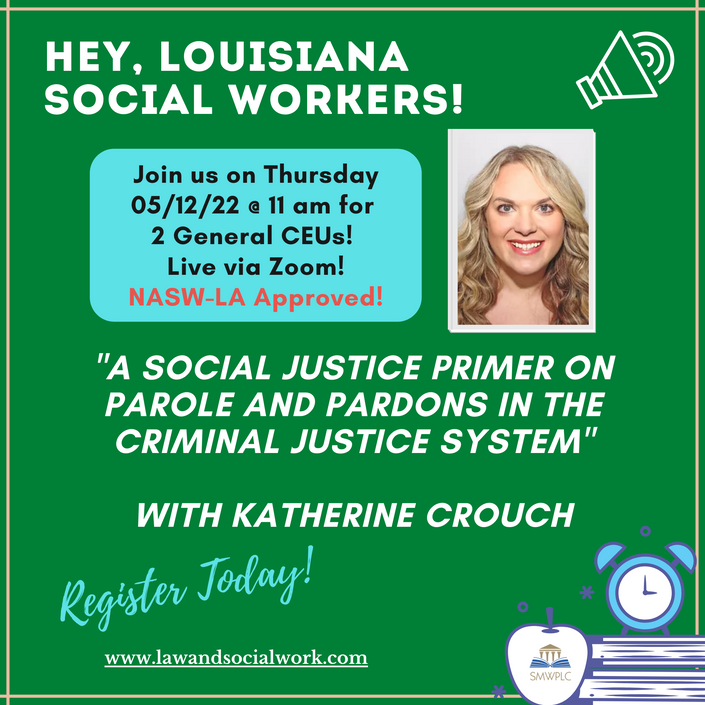 A Social Justice Primer on Parole and Pardons in the Criminal Justice System (05/12/2022 Replay!)
This Approved CEU provides Louisiana Social Workers with unique insight to a rarely-discussed part of the criminal justice system.
Presented by Katherine Z. Crouch, Esq., of Crouch Law NOLA, this General (and Approved) CEU provides Louisiana Licensed Social Workers with insight into the rarely-discussed facet of the criminal justice system: parole and pardons. (Moderated by Sheila M. Wilkinson, LMSW, ESQ.)
OVERVIEW & PURPOSE

The purpose of this CEU will be to provide Louisiana Licensed Social Workers with an overview of the obligations and responsibilities of a criminal defense attorney in the processes of parole and pardons in the criminal justice system. Particularly, Social Workers will understand the importance of and how to integrate their involvement. Social Workers will be introduced and understand the concept of restorative justice in therapy, and how they can assist their Clients, Attorneys, and Family Members who may be navigating the criminal justice system.
LEARNING OBJECTIVES

After completing this course, participants will be able to:
understand what criminal defense attorneys do, from arrest to expungements
explain the difference between a pardon and parole
intelligently discuss the process of parole and pardons, as well as the criteria for a Board decision
understand how a criminal defense attorney prepares for hearings and trials
understand the concept of restorative justice in therapy, and how they can assist their Clients, Attorneys, and Family Members who may be navigating the criminal justice system
CEU MATERIALS

We highly suggest you print and take notes directly on the slides, rather than on separate paper. The Board historically has preferred integrated notes as proof of engagement during CEUs.
EVALUATION REQUIRED
At the end of the video, you'll hear us say "okay, discussion time!" Because you are watching a replay, you won't be able to participate in the discussion, but you are still required to complete the evaluation. Once you get to that point in the video, go to the next step (EVALUATION) and complete the evaluation. You'll submit a form and receive a copy of your responses (which you should save for your records with the CEU Materials). If you have issues accessing the activity, please email us.
Your Instructor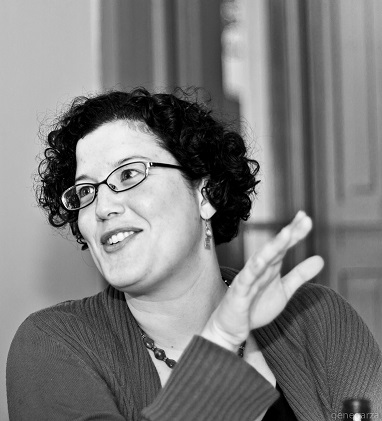 Sheila M. Wilkinson, Founder.
Sheila is originally from Houma, Louisiana, and is an educator, social worker and attorney. Her primary focus is empowering others to reach their full potential, guiding them towards resources and resolutions.
Heavily involved in community development, Sheila is a Founder of Resolve Mediation Group (a Louisiana nonprofit), as well as a Founder of the Louisiana Indian Law and Policy Association. She also serves on several nonprofit boards and professional organizations in New Orleans, particularly with ArtSpot Productions and within the Bar Governance of the Louisiana State Bar Association.
Completing her LL.M. in International and European Law with the Institute for European Studies in Brussels in 2014, Sheila's current focus is on comparative EU/US law, as well as business law and its effective and efficient development. Prior to her LL.M., Sheila earned her Juris Doctor from Loyola University New Orleans in Civil Law with an International Legal Studies Certificate, and her Master's of Social Work from Tulane University.
Sheila managed a partnership of law firms for 10 years, focusing on class actions and multi-district litigation prior to opening her own consulting firm in 2010. Since then, Sheila has divided her time between the United States and Belgium serving clients and educational institutions in both locations.
In New Orleans, Sheila teaches at the University of Phoenix, Loyola University and Herzing University. In Brussels, Sheila teaches at Vesalius College and United Business Institutes.

A lifelong learner, Sheila has two goals each day: (1) to make a stranger laugh and (2) to be a better person today than she was yesterday. With a keen sense of humor and mean baking skills, she happily and genuinely engages others wherever she goes.
Course Curriculum
Before you watch ...
Available in days
days after you enroll
The Replay!
Available in days
days after you enroll
Next Steps!
Available in days
days after you enroll
Frequently Asked Questions
When does the course start and finish?
The course starts now - access ends never! It is a completely self-paced online course - you decide when you start and when you finish, but the date you finish is the date you can claim CEU credit, so please finish before the LABSWE CEU deadline.
How long do I have access to the course?
After enrolling, you have limited access to this course via our site - across any and all devices you own.
What if I am unhappy with the course?
We would never want you to be unhappy! If you are, let us know what you think by emailing us at
[email protected]
Is this a pre-approved CEU?
Great question. The short answer: yes. The long answer: This CEU was APPROVED by NASW-LA at the time of it was presented. However, if you are watching this, you can always be extra careful and fill out your own self-assessment form with your materials. We scored this session at a 15. A score of 10 is needed for an approvable event. Fill out your form on our website here: https://lawandsocialwork.files.wordpress.com/2021/03/labswe-guide_for_selfassessment_of_ceu.pdf